Products are listed as a service by MENZSHED NZ.  
They are not endorsed by MENZSHED NZ; it is over to customers to satisfy themselves as to product suitability.
MENZSHED NZ neither charges for nor receives any sales commission.
To put your shed ad here, contact the webmaster
===============================================================
Workshop Aprons Made to Order
As pictured at Henley Mens Shed, it took some time to find just the right person to make aprons for the blokes in the Shed and around the workshop, and the right fabric is bull denim (tough and hard wearing).  Even local builders and joiners are impressed.
Now you too can access these individually crafted aprons for your shed/workshop, just get in touch with Elya Matthews using the contact details below and she will stitch up the goods for you.
Each has adjustable neck band and straps to tie at the back or front, the chest pouch also has a place for your pencil. The central waist pouch is nice and large, with a side pouch for ruler and two nail punches (or whatever you like to carry around).
Pricing
1 * Apron @ $47.83 + GST = $55.00
10 * Aprons @ $34.78 + GST = $40.00 each
1 x Custom print individual name @ $10 + GST = $11.50
10 x Custom print Organisation/Shed @ $7 + GST = $8.05 each
Let Elya know you are from a Mens Shed to get these special prices (as above) and please allow a little extra for courier fee, unless you are collecting your order from the Henley Mens Shed.
Elya Matthews 0277 661 792 lilyparker-elya@hotmail.com
For more information including colours available, see the Apron flyer .
Branding Irons for Your Shed

IMPORTANT: As "MENZSHED" is a Trademark owned by MENZSHED New Zealand Inc, only member sheds are permitted to place orders using that word.
We Can Precision Engineering ( website here)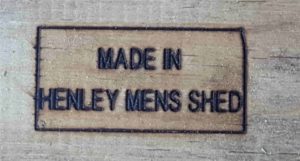 Pricing at July 2018 is understood to be about $650.00 for the LPG Branding Iron Head 50×100 and $350.00 for LPG Torch Kit, plus GST and Freight.
Inquiries to admin@we-can.co.nz