MENZSHED NZ Status: Member
Status: Open
Location: Taumarunui Bowling Club, Turaki Street, Taumarunui
Contact:
Laurie Bull, Secretary,  bullui@compassnet.co.nz  Ph 07 8955348, Mob 027 9641870
or mail: Taumarunui & Districts Menzshed, C/- Laurie Bull, 8 Para Street, Taumarunui 3920
Graeme Croy, Treasurer, we.two@xtra.co.nz , Ph 07 8955191, Mob 027 2442513

Recent trips to both Taupo and Te Awamutu Menzshed's have been very helpful and encouraging.
We have a place where we meet now, although still getting set up for such things as woodwork or other type stuff. We have had a number of activities setting up and helping people which has melded the guys into a good group.
We would be keen to hear about regional activities etc.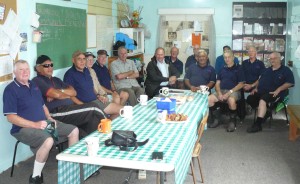 We were pleased to have a visit from Ian McKelvie, MP for Rangatikei during March. He enjoyed morning tea with our members.  Read more about his visit here.
Here we are again, 201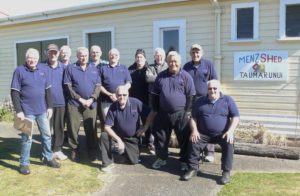 6 AGM.