Email: treasurer@menzshed.nz  Tel: 027 820 0221
Shed: Foundation member and treasurer of the MenzShed Kapiti.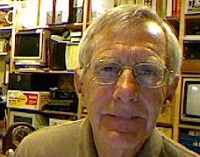 Grew up on a small farm in Marton and came to Wellington to start work February 1961.
Part time resident of Waikanae since 1988.
Permanent resident for the past 8 years after 37 years in Island Bay.
Married with 3 children and 7 grandchildren.
Retired 2 years ago after more or less 50 years with the Civil Aviation Authority in NZ. Initially trained as a radio technician then went onto Radio and Navigation Aid Engineering.Then progressed into technical management areas. The last 20 years managing the rewrite and development of aviation safety rules for Civil Aviation in New Zealand.
Has had a keen interest in things mechanical and electrical from a very early age
At age about 7 or 8 learnt a few things about mechanical things when he took the screws out of his new clockwork motor for his meccano set. The spring flew out and bits went everywhere. Has a significant collection of old machinery – stationary engines, Puch motor scooters, Massey Harris Pony tractor, Austin Maxi, valve radios, clocks etc.
An active member and Treasurer of the Wellington Vintage Machinery Club.