Member: MENZSHED NZ
Wellington City Menzshed Charitable Trust was established in 2011. We are democratic with Trustees being elected, or re-elected, at the AGM.
Tuesday 28 February 2017 saw the door of 46 Frederick Street close for the last time bringing to an end nearly five years as the home of the City Menzshed. Its yellow stickered earthquake prone status, and the recent change in the legislation, put the landlord in the intolerable position of being responsible for the building's occupants.
March to June 2017, members met twice a month in each other homes to enable the socialisation to continue.
In July 2017 a site was secured at Ewart Hospital at the end of Coromandel Street, next to South Side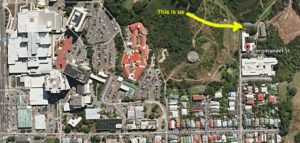 Kids Kindergarten.
We are open Tuesday, Wednesday and Thursdays, 10am-1pm.
Contacts:
Chairman – Don McKenzie don@sandon.co.nz  027 448 0611
Secretary – Stuart Hudson stuart.hudson0@gmail.com 04 3892270