The Level 2 Alert notifications effective 31 August requires sheds that choose to open are subject to social distancing and gathering size requirements.  Please use our shed finder to contact the nearest shed for their open or closed status.
The COVID-19 Coronavirus pandemic is being regularly reported in the news and within social media.  We encourage shedders to seek advice and information from reputable sources, particularly our Ministry of Health and the Government's COVID-19 website.  
Symptoms of COVID-19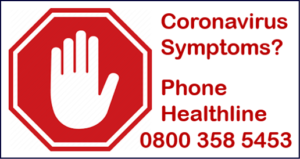 These symptom do not necessarily mean you have COVID-19.  The symptoms are similar to other illnesses that are much more common – cold or and flu.  Seek advice by phoning Healthline's dedicated COVID-19 number 0800 358 5453 or contact your GP/Medical Centre by phone.  You may be directed to a nearby Community Based Assessment Centre.  DO NOT visit your health centre unless instructed.
How can I protect myself and others?
There are several things we can do to protect ourselves and others:
For more information, please visit:
Other news: