School holiday programmes are a way for the Men's Shed to connect with the community in a managed and very beneficial way. Henley Men's Shed runs school holiday programmes during every term break, varying from 3 hours to 4 days duration.
If your Shed is keen, you will need to make decisions on: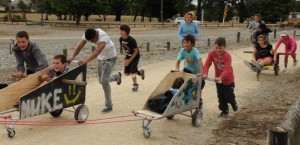 Age range your members can relate too

Maximum number of kids you can supervise

Duration ( how long you can last)

Practical activity/project

Material sponsors (Businesses with a community profile)

Tools and equipment to be used and how you will manage safety

Will a $ fee be required

See also Child Matters website.
The simple way to organise is to get your local school to advertise/promote the event in the school newsletter and fill spaces on a first parent that phones and books their kid gets a place basis.
Alternatively you could link up with the likes of a church group that offers school holiday activities and suggest the Shed be included for say half a day.

Here is a simple project item to start with, it can be precut into a kitset form beforehand.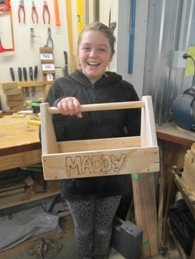 Assembly on the day including hand sanding, screwing, and branding (pyrography), plus a little time for judging (to find one winner) fills in 3 hours of fun.
The benefits are immense;
1st the kids are preoccupied and have a ball (hardly ever any discipline issues) doing stuff they wouldn't otherwise get to do and they take their efforts home to show (so make sure the quality is up to standard)
2nd the blokes benefit from the activity and interaction, they will talk about the experience for days after.
3rd parents tell people in the community about how good the Men's Shed is in working with kids and teaching them skills.
Growing the Sheds community profile brings on board more supporters and sponsors.
Here are links to the kitset plans –