(Northland & Auckland)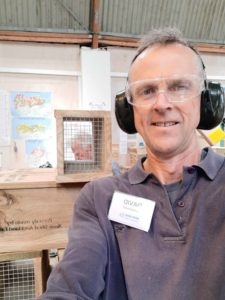 David Broadhead, Mens Shed Auckland East
Tel: 021 324 762  regrep1@menzshed.nz
I'm a Pom – from Scarborough – who escaped the mother country in 1982.  I did my OE in Japan from 1983 to 1986 then came to NZ where I have lived since.
The early part of my working life was spent exporting food ingredients to Japan, working for the NZ Dairy Board, Cadburys, Nice & Natural, Chelsea Sugar and Wattie's in various export and operations roles.
Later I branched out into purchasing, logistics, quality systems, project management and export training and consultancy as well as commercialising a press tool improvement that my brother invented.
I come from a fairly practical family.
I remember dad doing decokes on our Morris 1000 Traveller (and sanding back and varnishing the wooden trim on an annual basis) in the 1960s.
And I spent many a late night in the 1970s passing spanners to my older brother as he was working on his latest motorcycle project; the most ambitious of which was putting a Reliant car engine into a motorcycle frame – a Norton Featherbed from memory.
So I'm interested in all that stuff, but having spent most of my life behind a keyboard I lack practical skills and experience.
A few years ago I was able to put my interest in things practical to good use via the "Tools for Schools" project that sent pre-loved tools (and benches, vices etc. etc.) to schools in Taveuni, Fiji.  The project was funded – $5,500 for sea-freight for each of the 20 foot containers sent – by my Rotary club (Ellerslie Sunrise).  The aim was to get the local boys up to speed with practical skills so that they could assist with the rebuild required after Severe Tropical Cyclone Winston levelled large swathes of the island in February 2016.  Most of the donated tools and workbenches came from various sheds – in Auckland and further afield – and along the way I liaised with a lot of sheddies, attended a couple of region 1 meetings and spoke at the 2018 national conference.  [The project is now on hold following the passing of Geoffrey Amos in Fiji and in the absence of a suitable "in market" person either there or elsewhere in the Pacific. Suggestions welcomed since the project seemed to be well liked and was certainly well supported].
Most recently I had the pleasure of distributing four pallets of nails (brand new, various types and sizes, many of them stainless but all surplus to requirements as part of a range replacement at a major retailer) around various sheds. On the one hand this was a great way to pay back the generosity I'd experienced throughout the Tools for Schools project, but on another level was a good example of how sheds can benefit from sharing resources and information and co-operation.
In recent months, as my day-job workload started to decrease, I have been able to spend more time at my own shed; Auckland East. I have learned some new skills, enjoyed the camaraderie and never cease to be amazed by the depth of knowledge – and willingness to share same – of the members (handy when you are restoring an old motorbike and actual skills lag somewhat behind those you wish you had 😊)
I think the sheds are a great initiative and as I move towards spending my time how I want to as opposed to how someone else wants me to I'm keen to do my bit to help them to grow and prosper for the benefit of all.  I have a bunch of ideas but they will need to wait until I have had a chance to visit the various sheds or at the very least, talk to the people involved in running them.
My hobbies include photography, cycling, volleyball, anything to do with old / classic motorcycles (I own three and counting of various shapes and sizes and am always looking for more) and herding cats.
I'm not big on politics and being from Yorkshire I tend to call a spade a spade (and I can do the accent and add in the expletive as required).
Looking forward to meeting you all, hearing your stories and helping with the good work.
Former Reps
Ross McEwan North Shore  2013 -2017
Bernie Ward 2018