Email: secretary@menzshed.nz  Mobile: 027 8822448
Shed: Tapawera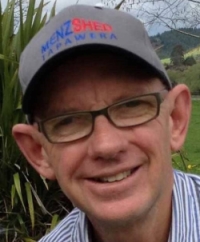 Married to Sandra with a blended family of nine children, 13 grandchildren (brag brag) spread around NZ, Australia, Brazil, Germany and England.
Most of my work life was spent with Tower Corporation in several cities, before moving to rural Kohatu in 2007 when Sandra became the principal at the local area school.  Locally, I worked in the bee products business with Nelson Honey.  In 2017 we moved to Richmond, but I have retained membership at the Tapawera Men's Shed where I was a 2012 founding member.
I enjoy cooking, single malts, opportunities to spend time with grandchildren and classroom time whenever Sandra is called as relief teacher at Lake Rotoiti School. Computer technology is of interest to me and hopefully something I can use to support shedders.
I have valued the opportunity to use my administration and financial skills for a variety of community organisations, but have whittled several away to focus on the men's sheds movement.