Tasman, Nelson, Marlborough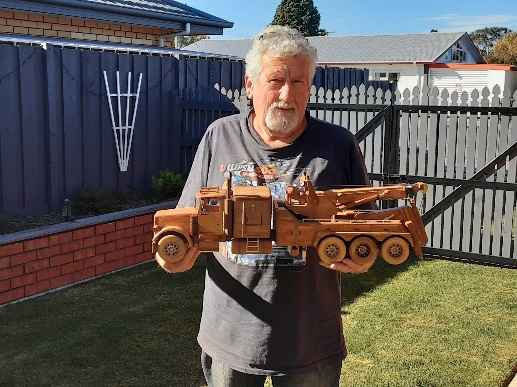 David Packer: Shed Renwick
Email: regrep6@menzshed.nz . Mobil 02102282592
Born 1950 Christchurch NZ. Father was a Motor Mechanic, air crew during WW2, Mother was a working Housewife and mother to three children.
High School was Xavier College. Then an 5 year Apprenticeship with Steel Bros as a coach Builder, then to Toyota Motor Assembly plant at Hornby CHCh, till 1972, Had leave of Absent for travelled to England, worked for Stelmo'a in Kent where we built the moles that bored underground tunnels, including the Channel tunnel between France & England, one of the 2 machines is still under the English Chanel, the other at Folkstone. Also worked on the rail tunnel to Heathrow and the Dartford Tunnel.
From them to Melbourne for a few months then returned to Toyota, Maintenance Department, four years later with itchy Feet, moved family back to Melbourne and worked for Kenworth setting up their new building, followed by joining the printing industry starting as a fitter and moving through the ranks to Plant Engineer with the largest printing co in Australia. Many trips to Europe, England and USA with Work. In 1996 I returned to NZ as Chief Engineer and Project Manger for this company and role was to set up Maintenance departments in the NZ five plants and look after all purchases of equipment, including relocations of plants and equipment.
Retired in Dec 2013, then worked for another printing co, to set up a new building and install their new equipment from France and relocating their existing plant from Ashburton to CHCh, then set up their H&S systems for the next year and trained up their new H&S officer. Joined the Rollstone Menz shed in 2014 as H&S officer and Supervisor. left CHCH at the end of 2016 and moved to Blenheim where we designed our home and had a local builder complete the house. Joined the Renwick Menzshed in 2019
Favourite hobbies: Cars, Motorbikes and Carpentry and making heritage toys.
Former Reps
Patrick Legget Havelock 2017 -2018
Vacant 2019 – 2021