Email: treasurer@menzshed.nz  Tel: 021 115 4949
In preparation for retiring I joined the Amberley Menzshed at the end of 2017 and have since joined the management committee and look after the media and Facebook to keep our shed in the media in our local area.

My wife and I have 3 children and 5 grandchildren between us and are lucky to have 3 of our grandchildren here locally in North Canterbury where we have lived for more than 23 years. The 2 other grandchildren live in Belgium. 
A 49 year career has taken me from the UK, to Germany, Belgium and France before finally settling in New Zealand in 1999. I had a varied career beginning with a 10-year period in the British Army, before working in roles that always had some element of accounting and administration. A period of 10 years followed as a Store Manager for McDonalds in Belgium, UK and France. I moved across to a Belgian supermarket chain and then to the European Headquarters of Sumitomo Rubber Industries in Belgium.
Since my arrival in NZ I specialised in accounting and administration, working for a R&D Engineering Company, a Customs Brokers and a Forestry Nursery, before my final position before retiring nearly four years ago for Christchurch Resettlement Services. This role saw me managing the accounts, preparing monthly reporting for the board and preparing the annual accounts for audit. The funding for CRS came from government contacts and philanthropic organisation, requiring ongoing financial accountability reporting.
In addition to my paid employment I have had many other voluntary positions in NZ in the Civil Defence, NZ Fire Service, St John's, treasurer for Amberley Tennis Club, treasurer and local support officer for the RSA, board member and bulletin editor for the Lion's, all of them in North Canterbury.
==================================================
At the 2023 AGM (15 April at the MenzShed Kapiti)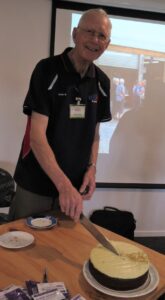 MENZSHED NZ foundation Treasurer Peter Blackler retired after ten years of service.
Pictured here cutting the tenth birthday cake.
We thank Peter for his commitment and service to the men's shed movement and wish him well.