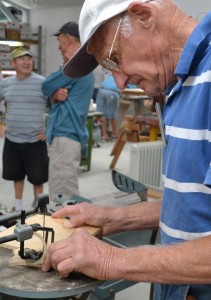 The objectives for which MENZSHED NZ is established are to meet the needs of its member sheds by:
Providing support and resources for member sheds and emerging groups aiming to establish a shed:

Providing a central contact point for all member sheds:

Maintaining a national register of sheds in New Zealand:

Providing benefits to member sheds, such as discounted group insurance rates:

Assisting member sheds to keep their members safe through quality health and safety information:

Developing strategic alliances with key organizations:

Supporting member sheds to be accessible to all men, regardless of ability, background, or culture:

Organising national conferences and facilitating regional and local networking opportunities:

Providing guidance regarding shed responsibilities, structure and operations:

Providing information and guidance to enable member sheds to establish opportunities for effective and continuous learning where appropriate for skill transference and tangible outcomes.
MENZSHED NZ will not have any direct control or responsibility for any individual shed.
"MENZSHED" and the associated logo is a registered trade mark owned by MENZSHED NZ Inc.  Inquiries – secretary@menzshed.nz
To make a donation to support the work of men's sheds and MENZSHED NZ,

click the Donate Now button.  You will be taken to the PayPal site, where you can donate securely using your bank card or personal PayPal account.