(Otago, Southland)
Ian Miller, member of Taieri Blokes Shed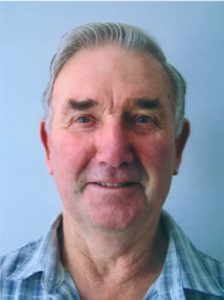 Email regrep5@menzshed.nz  Phone 027 485 1452
I was born and raised in Gore, and farmed in the Eastern Southland area before retiring to Mosgiel in 2002.  Having being self employed all my life, I have had to adapt too many changes throughout those years.  During those years other than farming, I was a member of the Young farmers movement, later years, Lions Clubs, and all local and district activities.  My main interest was, "competitive ploughing" competing at local and national level, also representing New Zealand twice.  Coach for the NZ team twice, and I've judged at 2 World Contests.  Was on the national executive for 22 years.
Valerie and I started our retired life in a new area, Mosgiel.  Our families are spread over NZ.  I was looking for different interests and meeting new friends when I heard about the men's shed movement.  Phil Bradshaw and the late Bob Biggart called an open day explaining the aims and objects of the shed movement in Mosgiel. I joined up that day, July 2008.  Since then, I have acted Secretary for 3 years, President for 4 years, and Convenor most of that time. The Taieri Shed has grown from 10 original members to over 50 + today.
It has given me great pleasure to see the projects achieved at the shed also help in the local community that they couldn't achieve otherwise, not forgetting what the shed has done for our members health and wellbeing.
My energies, I hope to support and encourage more new sheds in this region, also support all the existing sheds.             
Former Reps
Neil McArthur Alexandra (2014 – 2017)