(Waikato, Bay of Plenty, Gisborne)
Keith Dickson, Shed: Mt Maunganui
Email: regrep2@menzshed.nz  Tel: 021 025 96454
I was born in Dunedin to parents who had both served in Egypt and Italy during WW2. Mum as a nursing sister and Dad as an engineer. When I was very young we shifted to Tokoroa where Dad was involved in the construction of the original Kinleith mill. After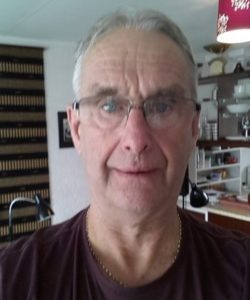 about six years we returned to Dunedin : Dad became engineering manager at a large printing works and Mum was Sister in Charge of the X-Ray Dept. at Dunedin Public Hospital.
By 1964 I had completed my education at Bayfield High School, and in 1969 I completed an electrical apprenticeship at Sontag Electrical. I spent much of my spare time on the Otago Harbour with Sea Scouts, Sea Cadets and the Vauxhall Yacht Club.  During those years I was fortunate to have had many adventures around New Zealand, to places like Bluff, Central Otago, Akaroa, Nelson, Ripapapa, Motutapu Islands and the Philomel Naval Base.  Around 1970 our family shifted back to Tokoroa where Dad was again involved  in a major expansion project at Kinleith and I worked on some of the "Think Big" projects and also at the Nelson Pine Forests chipper mill at Richmond
My career path has taken a few turns over the years; I have been a professional photographer and a trade union official, and have worked at most of the power stations in the North Island and also at the Cobb near Takaka.  I also built switchboards for the Anzac Frigates.
My sports have included yachting, hockey and parachuting, now I play a lot snooker at Mt.Maunganui R.S.A.  I have three daughters and now two very young grandsons. Tragically, three years ago another one died aged eleven from a very rare form of bone cancer.
Five years ago, I shifted to the Mt Maunganui R.S.A. village and to fulfil my own needs I set to work to establish our Shed which is progressing steadily and although it is very well equipped, it is far too small and we are working towards putting in a mezzanine  floor.
My ten years' experience as a trade union official has put me in a good position to run meetings and assist in guiding our group.  We have a named A4 photo of every member on the wall of the shed – they have worked out to be very handy!
I've been pleased to sheds established at Te Puke, Te Kuiti and Waihi in my time as Regional Rep.  I'm sure there is an opportunity at Raglan, so if you live in that district, please contact me for support to get a shed started.
Former Reps
Neil Bruce Hamilton 2013 -2014
Peter Lewis 2015
Rob Hall 2016