Member: MENZSHED NZ
Shed Open:
Monday and Tuesday 9:00am to 12.30pm; 1:30 to 4:00pm.
Wednesday, Thursday, Friday, Saturday 9am to 12.30pm.
Ladies Night Wednesday evenings 6:00 to 8:30pm ($5).
 
Lunch is available from the hospital kitchen if ordered prior to 9.30am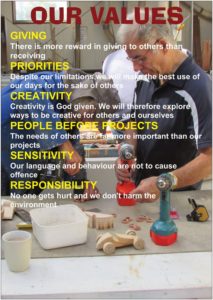 on day.
New-comers and visitors – please ask for the Duty Supervisor.
Address:  Saint John of God grounds, Nash Road, Aidanfield, Halswell, Christchurch
Contact:  Roger Spicer;  h.menzshed@gmail.com 027 229 1928


PEOPLE BEFORE PROJECTS.
Our focus as a Shed continues to be 'who' we are working with rather than 'what' we are producing. We erected our new sign this Autumn to make it clear to all our 'Sheddies" . Enjoying a meal together , sharing advice, going on a fishing trip or simply  watching the activity of the Shed is all part of our plan 'to assist other men to achieve and enjoy their God -given potential'.  
OPEN EVERY DAY 9-12 NOON EXCEPT SUNDAY.
LADIES NIGHT 6-8pm Wednesdays
FIND US IN THE GROUNDS OF ST JOHN OF GOD HOSPITAL NASH RD. OFF AIDANFIELD DRIVE. HALSWELL.
Have a look at the article written about our Shed by clicking here.