Member: MENZSHED NZ
Shed Open:
Monday and Tuesday 9:00am to 12.30pm; 1:30 to 4:00pm.
Wednesday, Thursday, Friday, Saturday 9am to 12.30pm.
Ladies Night Wednesday evenings 6:00 to 8:30pm ($5).
 
Lunch is available from the hospital kitchen if ordered prior to 9.30am on the day.
New-comers and visitors – please ask for the Duty Supervisor.
Address:  Saint John of God grounds, Nash Road,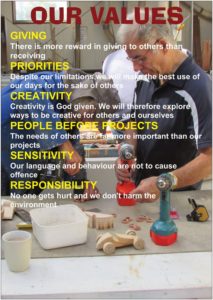 Aidanfield, Halswell, Christchurch
Contact:  Roger Spicer;  h.menzshed@gmail.com 027 229 1928

Making something helps
A bloke needs a reason to get up in the morning despite limitations! The creative urge is in all of us since we are made in the image of God who created us. Just creating something puts a a smile on the face (and others).
Halswell Shed VALUE 3. ' Our creativity is God given and and we will explore ways to be creative for ourselves and others.
Sheddies in Ashburton. The Ashburton Aviation, Lynn Woodwork and The Plains museums

The whole day was great, a real eye-opener as to what these smaller communities are doing with memorabilia and local history. I am sure the guys will be going back for another look.
Helping others
We all need help sometimes. Learning new skills for the first time can be daunting. It's even more daunting when what able -bodied people take for granted is taken away suddenly. Helping others out at the Shed is what it's all about at the Halswell Menzshed.
A FLOOR CHAIR for a disabled primary school child is our latest effort. Integrating into the main-stream means they will be able to sit up on the mat with the rest of the kids. OR Try painting a chair without sight sometime or use a screw-driver with one hand! (Luke 4 v18-19).
Sharing our skills
There is quite a bit going on at the Halswell Shed at the moment. Its all getting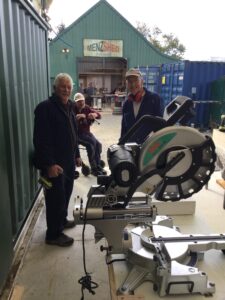 done well and quickly because we are helping each other out. Take a look!
Have a look at the article written about our Shed by clicking here.