Member: MENZSHED NZ

Etablished April 2016.  Following four months of work the MENZSHED HASTINGS first 'shed' was officially opened on 10 August 2016 by Hastings District Councillor, Kevin Watkins. On 1 September 2019 our  latest shed was officially opened.
Our shed is at Hastings A&P Showgrounds.
Visitors welcome; Mondays, Tuesdays and Wednesdays, 9:00 to 12:00.
We have a full machine shop, a mechanical workshop/welding bay, lathe, drill presses etc. A woodwork room, and two more general work rooms, with coping saws, compressor and all hand tools for most jobs.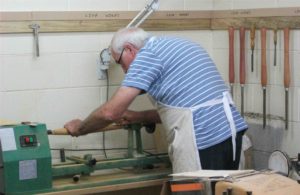 At last count, we had 65 members, and from 5 to 17 visit on shed days –
On Thursday mornings, we host a workshop for local EIT students. 
To find out more, Contact
Bernie Southworth (Chairman)  chairman@menzshedhastings.co.nz
Christine Ingle (Secretary) secretary@menzshedhastings.co.nz
Allan and Lyndon's next plan of attack!
As a Charitable Trust, we have the usual Chairman, Vice Chairman, Secretary, Treasurer and committee.  Our shed is also registered with Charities Services CC53199.