MENZSHED NZ Member

We took possession of the old Hastings Netball Club building in April 2016.  Following four months of work the MENZSHED HASTINGS 'shed' was officially opened on 10 August 2016 by Hastings District Councillor, Kevin Watkins.
The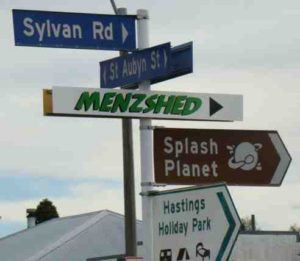 address is 707 Sylvan Road, Hastings, next door to the Hastings Coffin Club.
We have a full machine shop, a mechanical workshop/welding bay, lathe, drill
presses etc. A woodwork room, and two more general work rooms, with coping saws, compressor and all hand tools for most jobs. We have our own 'smoko' room, and use of the three netball courts that adjoin our building, also used by the local radio controlled model car club. We started life with a donated 40ft container which is now secured near our building as a storage facility, and due for a "working bee" coat of paint soon.
At last count, we had 65 members, and from 5 to 17 visit on shed days – Mondays, Tuesdays and Wednesdays, 9:00 to 12:00. On Thursday mornings, we host a workshop for local EIT students. 
Being a registered Trust, we have the usual Chairman, Vice Chairman, Secretary, Treasurer, committee/trustee board.  Our shed is also a registered charity – CC53199
To find out more, contact
Ric Coleman (Chairman) 021 214 0624 chairman@menzshedhastings.co.nz
Chris Gray (Secretary) 06 871 0331  secretary@menzshedhastings.co.nz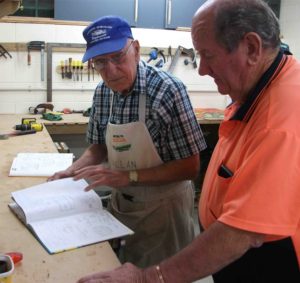 Allan and Lyndon's next plan of attack!