MENZSHED NZ Status: Member
Contact: Arthur Buckland, Secretary
Phone: 021 1515 808
Email: art@body.org.nz
Postal address: P.O.Box 28, Waiuku
Physical address of shed: 5, Hosking Place, Waiuku.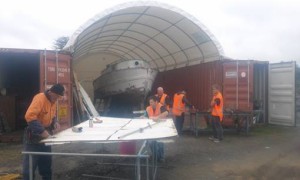 The Waiuku Shed has arisen from the ashes of the West Franklin Community Men's Shed ( 01/02/2008 ) to a bigger, better and more organised facility closer to town.
First project is to restore the Admirals barge off HMS Achilles to original condition. Built in 1937 and present at the battle of the River Plate 75 years ago, we had 6 sailors on her from Waiuku so there is quite a community connection with the boat.
This past year has been busy, after securing a contract with Auckland City Council to start up and operate the first of 12 Community Recycling Centres in the Auckland region. 2 1/2 acres of organised rubbish!
A subsidiary Charitable Company, ( Waiuku Zero Waste Ltd )  was set up to operate the business and now employs 8 staff. The resources are available to members and the recycled timber is being put to good use.  Other items are sold through the shop, ( Waiuku Junktion ) and the profits come back to the Shed.
Goodbye to grants and the constant worry about funding! We come under the heading of 'Social Entrepreneurship'.  I can recommend this approach to any other Shed who is in close proximity to a Council rubbish collection operation, and has the resources to take on a commercial enterprise.
It is a lot of hard work and long hours in the planning stages, but well worth the returns to the Shed and the community as a whole. The possibilities are endless.
We are now in a position to extend opening hours to members to use the woodwork workshop.
Wednesdays 5:30 – 8:30 pm remains as the main Group Night.

Mondays 6 – 9:0 pm remains as the ' Ladies Furniture Repair Night Class'
We are now able to offer the Joinery Shop as a venue,  Monday – Wednesday 9 – 4:00 pm. commencing in December. Bookings are essential and site visits must be pre- arranged.
We are looking to assist individuals in setting up in their own business to make use of the resources coming in daily. Whether it be lawn mowers, chainsaws, garden tools, whiteware or any other type of repair and refurbish enterprise, – how about garden or outdoor furniture?
Give us a call and we will do our best to help.