Established 2015  MENZSHED NZ member since 2016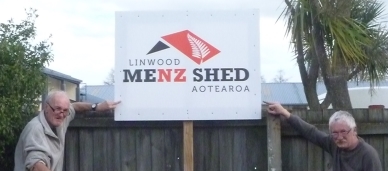 Status: Open, Mondays from 11.30ish till 2.30 is our general workshop time
Location: Linwood Resource Centre, 332 Linwood Ave, Christchurch
Contact: Menna Harries menna.linwood@citymission.org.nz
The "Shed" started as a workbench made out of a repurposed concrete shutter, pallets and some fence rail. The Mark II version sees the bench protected from the elements by a concertina marquee, the tarp of which we take down when the really big southerlies are blowing.
Being under canvas hasn't stopped us from being involved in a bunch of projects including:
Making a mud kitchen for a community preschool,

creating planter boxes for a church community garden,

crafting macrocarpa benches for an inner-city recovery project, and

pre-fabricating raised planter beds for Freeville Primary's contribution to the citywide Avon-Okataro renewal initiative.
We are a diverse group of blokes who want to pick up skills, support each other and contribute to our community.