Established 2015.  Member of MENZSHED NZ since 2015.
Contacts:
Paul Wiseman, Secretary 027 441 9270 paulandsue@xtra.co.nz
Keith Dickson, Chairman 021 025 96454  k.m.dickson@kinect.co.nz
Postal address: Mount Maunganui Community Menz Shed Trust, Unit 6, 45 Aviation Avenue, Mount Maunganui 3116
The shed is located at unit 6, 45 Aviation Ave.  It's a bit hard to find so watch for #60 on your right: we are down the driveway opposite.
We are open Wednesdays, Thursdays and Saturdays from 9.00am.  New members are welcome.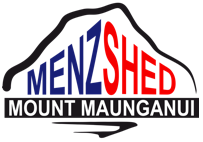 Our 60 sqm shed opened August 2016.  The shed is very well equipped  thanks to donations from the TAURANGA ENERGY CONSUMERS TRUST and BAY TRUST  and also from other individuals and businesses.