Established 2016    MENZSHED NZ member since 2015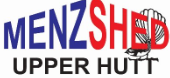 Visit our website CLICK HERE
Location: McLeod Park, at 90A McLeod Street, Upper Hutt. Look for the yellow "AA style" signpost on MacLeod Street.  There's plenty of parking at the end of the driveway.  
Directions: Click here for a map  
When: Tuesdays to Fridays from 9:00am until 12:00 noon. 
Who:  We welcome all sheddies and visitors to the shed
Contact:  Secretary Steve McDonald – secretary@upperhuttmenzshed.kiwi
Who are we? Upper Hutt Menzshed serves a membership of more than fifty who get involved in a vast array of activities in the Shed ranging from woodwork, woodturning, metalwork, tool maintenance, and many personal craft and repair projects. Members choose projects for themselves or contribute to a project for community good.   
Our Menzshed can be different things to different blokes and members come and go as they please to do something or nothing, it's all about blokes being blokes enjoying getting together, enjoying each other's company, and feeling like they're part of something useful.   
News 5/4/2021