MENZSHED NZ Status: Member

Jo Howard (Secretary)
03 789 7055  westportmenzshed@gmail.com
Mail: C/0 35 Kew Road, Westport, 7825
The shed is located at 122 Peel Street, Westport.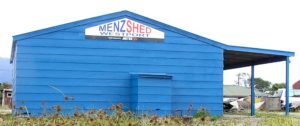 The Westport Menz Shed is now operational after a big effort transforming a dilapidated shed into a workshop. Westport Menz Shed trustees wouldn't have been able to do it without the help from our sponsors, businesses and the community.
Following a community meeting to gauge interest, an inaugural committee was formed in August 2015. The Westport Menz Shed Trust was established and became affiliated to the National Menz Shed body.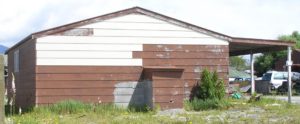 It may not have happened without the Buller District Council providing an unused building at the old Peel Street works site and Community Grant funding to get the shed started. Council property managers co-operation made the chore of getting the dilapidated shed operational much easier.
We started with a shed full of junk in an abandoned yard. No power, it leaked like a sieve, we had no money or equipment! But the community said a Menz Shed was needed. Workers were getting laid off at the mines, the cement works were closing, retirees where shifting to the district and people needed a place to meet, socialise and work on something positive.
Our major sponsors were Westport Mitre10 who provided paint, signage and discounted equipment; Electro Services/Buller Electricity who sponsored rewiring; Holcim NZ who donated workshop equipment and safety gear from the disestablished cement works maintenance workshop, and Coastal Construction providing replacement roofing iron.
We have also been supported by the Trust Charitable Foundation, Holcim Grant, West Coast Community Trust, and the Lend a Hand Foundation.
Also appreciated has been the help from the community and businesses in donation of tools and materials.
Lastly the trustees who have put in considerable hours renovating and outfitting the shed while still fitting in some community projects.
Finally, we are opened our doors on Sunday afternoon the 9th July, 2017.
The Westport Shed is for men and women. There are a lot of practical women on the Coast. Our goal is a place where members can share their knowledge and skills applicable to practical projects. It aims to meet the educational and social needs of members, in doing so, improve the psychological wellbeing of its members.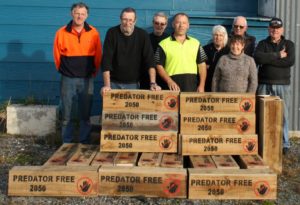 As with most Menz Sheds, we want to uphold the tradition of getting involved in community projects. On the open day we made stoat traps for Predator Free 2050. Forthcoming projects are making seating and signs for the Kawatiri River Trail. Of course, members will also be encouraged to work on their own projects as well.
Opening day was about new members telling us what they want to get from joining the Shed, projects they want to do and when they want it to be open. Over sixty attended and thirty new participants expressed interest in being involved with the shed. Most were keen to work on community projects. Many also arrived with tools to donate to the shed.