Members in men's sheds across the country share in the grieving for the victims of the horrific terrorist attack on Friday in Christchurch.  We too stand in solidarity with the Muslim community in New Zealand. It is unbelievable that one city should have to cope with the heartbreak of deaths, injuries and property damage during the earthquake events over which people had no control, then have to come to terms with the reality that a person could callously and deliberately massacre and wound others.
Mens sheds are about all men whatever their abilities or disabilities, we do not have boundaries on age, culture or beliefs, we are one and stand together shoulder to shoulder.
Please give someone that needs it – a man hug from all of us. 
Congratulations Mike King, 2019 New Zealander of the Year.  

Pillars took top spot in the Community of the Year category.  The men's shed movement was a semi-finalist in that category – see here.
MENZSHED New Zealand is a registered charity that exists primarily for the mutual benefit, success and support of member sheds and to facilitate public access to those sheds.
We are here to encourage, support and provide good information to those interested and passionate about men's sheds in New Zealand.
For a minimal membership fee, member sheds get access to discounts and benefits which can save a shed $100s. Come and join us and your shed too can be onto a winner.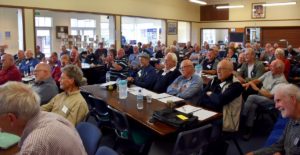 The 2018 biennial conference was held in Auckland at St Kentigern College 27-29 April.  Present were 75 sheddies and 14 partners from 33 NZ sheds and 4 representatives from the Australian men's sheds movement.   A video clip is available to view here (thanks Boomer Business).  Thank you to the organising committee, our generous sponsors and supporters, St Kentigern and the catering team.
"MENZSHED" and the associated logo is a registered trade mark owned by
MENZSHED NZ Inc.  Inquiries – secretary@menzshed.nz